Posts for tag: oral health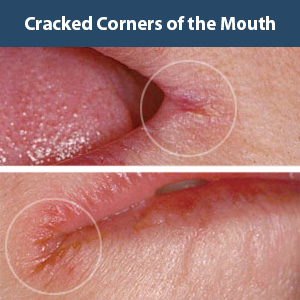 As dentists, we often see other mouth problems besides those with teeth and gums. One of the most common is cracking around the corners of the mouth. Although usually not serious, it can be irritating and uncomfortable.
Medically known as angular cheilitis (literally "an inflammation of the angles of the lip"), it's also called perleche, derived from the French lecher, "to lick." The latter moniker aptly describes the tendency of sufferers to compulsively lick the sores to relieve irritation, which actually can make things worse.
Perleche has a number of possible causes, mostly from in or around the mouth (although systemic diseases or medications can cause it on rare occasions). It's often found among younger people who drool during sleep or older people with deep wrinkles along the sides of the mouth that increase the chances of dryness and cracking. Long-term wind or cold exposure, ill-fitting dentures or a lack of back teeth (which help support facial structure) may also contribute to the condition.
Patients with perleche can also develop yeast infections from a strain called candida albicans. The infection can spread through the whole mouth, significantly increasing the chances of physical discomfort.
Treating perleche often involves topical ointments with inflammation-reducing steroids and zinc oxide, which has antifungal properties, to provide an environmental barrier during the healing process. If a yeast infection occurs, we may treat it with oral or topical antifungal medication like Nystatin for the whole mouth and chlorhexidine rinses, which has antibacterial properties.
It also helps to adopt a few preventive measures that can minimize the occurrence of perleche. If you wear dentures, for example, cleaning them often (including, if necessary, with chlorhexidine) and leaving them out at night reduces bacterial and fungal growth. We can also see if your dentures are fitting properly. Replacing missing teeth provides better facial support and could minimize wrinkling around the mouth. And, of course, keeping up daily brushing and flossing helps ensure a healthy and disease-free mouth.
If you're experiencing cracked mouth corners, let us know at your next appointment. With our help and of other medical professionals we may be able to give you relief from this irritating condition.
If you would like more information on gaining relief from angular cheilitis, please contact us or schedule an appointment for a consultation. You can also learn more about this topic by reading the Dear Doctor article "Cracked Corners of the Mouth."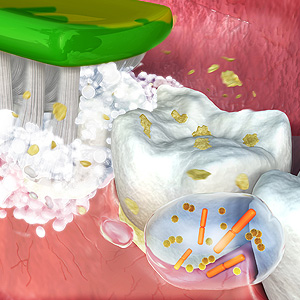 Mention "bacteria" and people begin looking for the germicide. The truth is, though, only a few strains cause disease — the rest are benign or even play a beneficial role.
This may shock you, but your body both inside and out is home to around 100 trillion single-celled organisms, exceeding the number of your native cells by 10 to 1. You won't notice them, though: bacteria are so small they only make up 1 to 3% of your total body mass. And each of us has a unique "microbiome" of micro-organisms: they influence a variety of processes like digestion and metabolism, and some even "teach" our immune systems to distinguish between helpful and harmful bacteria.
Of the 10,000 or more species of bacteria that inhabit the body, perhaps the most studied and understood are in the mouth. We even have a database that catalogs the gene sequences of oral bacteria. And what we've learned has enlarged our understanding of dental disease and how to prevent or treat it.
This new knowledge, for example, confirms that many of our modern lifestyle habits adversely affect oral health. For example, researchers have found higher concentrations of Streptococcus mutans, the bacteria most responsible for tooth decay, in current samples of biofilm than in those from preindustrial eras. The culprit seems to be the modern diet rich with carbohydrates like sugar that bacteria eat. Cigarette smoking can also make the mouth friendlier to disease-causing bacteria.
On the bright side, our growing knowledge of oral bacteria is helping us devise better prevention and treatment strategies. One example is the use of antibiotics to reduce the populations of disease-causing oral bacteria.
The broad, traditional approach kills not only malevolent bacteria, but beneficial strains as well. The approach may also be helping bad bacteria become resistant to common antibiotics. A newer approach targets specific bacteria with custom-designed antibiotics that won't kill other bacteria. There's also increased focus on ways to re-balance a person's normal microbiome if it's become skewed.
As we come to understand bacteria better — both good and bad species — these and other dental care efforts will benefit. With our increasing knowledge of these microorganisms that surround us the future looks bright for better oral health.
If you would like more information on the role of bacteria in oral health, please contact us or schedule an appointment for a consultation. You can also learn more about this topic by reading the Dear Doctor magazine article "New Research Shows Bacteria Essential to Health."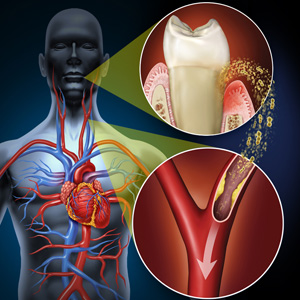 "No man is an island…." So wrote the poet John Donne four centuries ago. And while he meant the unity of humanity, the metaphor could equally apply to the interdependence of the various parts of the human body, including the mouth. According to recent scientific research, your mouth isn't an "island" either.
Much of this research has focused on periodontal (gum) disease, an infection most often caused by bacterial plaque that triggers inflammation in the gum tissues. Although an important part of the body's defenses, if the inflammation becomes chronic it can damage the gums and weaken their attachment to the teeth. Supporting bone may also deteriorate leading eventually to tooth loss.
Avoiding that outcome is good reason alone for treating and controlling gum disease.  But there's another reason—the possible effect the infection may have on the rest of the body, especially if you have one or more systemic health issues. It may be possible for bacteria to enter the bloodstream through the diseased gum tissues to affect other parts of the body or possibly make other inflammatory conditions worse.
One such condition is diabetes, a disease which affects nearly one person in ten. Normally the hormone insulin helps turn dietary sugars into energy for the body's cells. But with diabetes either the body doesn't produce enough insulin or the available insulin can't metabolize sugar effectively. The disease can cause or complicate many other serious health situations.
There appears to be some links between diabetes and gum disease, including that they both fuel chronic inflammation. This may explain why diabetics with uncontrolled gum disease also often have poor blood sugar levels. Conversely, diabetics often have an exaggerated inflammatory response to gum disease bacteria compared to someone without diabetes.
The good news, though, is that bringing systemic diseases like diabetes under control may have a positive effect on the treatment of gum disease. It may also mean that properly treating gum disease could also help you manage not only diabetes, but also other conditions like cardiovascular disease, osteoporosis, or rheumatoid arthritis. Taking care of your teeth and gums may not only bring greater health to your mouth, but to the rest of your body as well.
If you would like more information on treating dental diseases like gum disease, please contact us or schedule an appointment for a consultation. You can also learn more about this topic by reading the Dear Doctor magazine article "Good Oral Health Leads to Better Health Overall."